Important Messages from Parish President
Virginia Governor Ralph S. Northam has announced that we are entering Phase Three of the "Virginia Forward" plan. Information on that plan is available on the State website, http://virginia.gov. However, worship involves singing, speaking out loud, and almost all of the practices that help to spread the Novel Covid-19 virus. The Congregational Council of each church in our Parish, and the Parish Council, have agreed that we should wait a while longer before returning to in-person worship. Yes, it's coming soon, and the leadership of each church will follow State guidelines as well as those offered by our Virginia Synod. You can see the Virginia Synod guidelines at http://virginiasynod.org. We will worship together again soon. Watch our websites for updates on when that will happen. In the meantime, please continue to participate in the online worship experience we offer every Sunday, available on our website. Also, here is a link to Virginia Synod Bishop Robert Humphrey's latest message about worshipping together again.
Grace & Shalom,
Mike Sathe, Parish President
PASTORAL CALL PROCESS UPDATE
Dear Members and Friends of Rapidan Lutheran Parish:
The Call Committee and the Parish Council are pleased to announce that a primary candidate has been chosen for the position of Parish Pastor. A compensation committee has been formed to prepare and negotiate a compensation package. When this process is completed, arrangements will be made for the pastoral candidate to meet the congregation.
Due to Covid-19, Parish Council is discerning how best to do this safely. One possibility is to hold an outdoor worship service with appropriate social distancing and mask wearing. This would allow members of both congregations an opportunity to meet the pastoral candidate, to hear the candidate preach and preside, and to ask questions of the candidate. Another possibility would be to offer an opportunity for members to meet the candidate via Zoom. However, since some of our members do not have high-speed internet service, Council believes that we need to provide an opportunity for everyone to meet the candidate one-on-one. The details of that opportunity will be coming soon.
When the congregations have had an opportunity to meet the pastoral candidate, and when all the compensation details have been worked out, the Parish Council will give written two-week notice of a called congregational meeting for each church. At that time, a vote will be taken on whether we prayerfully believe that this is the candidate God would have us call to be our new Pastor. If the candidate is approved by both congregations, a vote will then be taken in regard to the financial package. If both the "Call" and the compensation package are approved, the Pastor will be notified and will have the option to accept or reject the call. If the call is accepted by the candidate, Bishop Humphrey will be informed and will approve the call.
When we meet our pastoral candidate, even though we will know the candidate's name and professional information, we must keep that information in strict confidence. The pastoral candidate is currently serving a congregation, and that congregation is not yet aware that the candidate is seeking a call elsewhere. The candidate's current congregation would be informed only if we issue a call and the call is accepted. We ask our members and friends not to share the potential pastor's name with anyone until or unless a call is completed.
This is certainly an exciting time, and I personally believe that God has led us to the person that God would have us invite to be the next Pastor of Rapidan Parish. Please watch your email and postal mail for information on how you can meet the person we propose to be our next pastor, and then look for information regarding your opportunity to vote on the proposed pastor.
Many thanks are due to the Call Committee and the Parish Council for bringing us to this point in the life of Rapidan Parish.
Thanks be to God!
Grace & Shalom,
Michael Sathe, President of Parish Council
The link below is the bulletin to
accompany
the worship service.
Invites you to
worship with us
If you are looking for a place to worship,
Mt. Nebo Lutheran Church
invites you to worship with us.
We offer Sunday morning worship at
with Sunday School for adults and children at .
We are a member of a parish which also includes
Good Shepherd Lutheran in Orange, VA.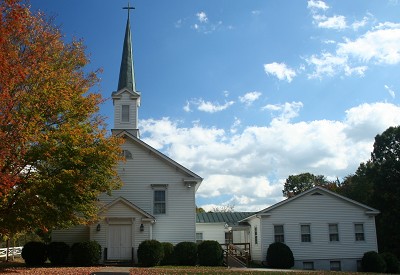 We are a small congregation in a country setting
and you can find us:
From Ruckersville: 29 N for 4 miles, Right onto
Rt. 621 (Jack's Shop Road) for 3.8 miles.
Church is on the right
From Stanardsville: Rt. 230 E to Rt. 29
Cross over Rt. 29 to Rt. 626 to Rt. 231
Right onto Rt.231 for 4.8 mile
Right onto 621 (Jacks Shop Road) for .2 mile
Church is on the left.
From Madison: 29 S to Rt. 230 E. for app. 1/2 mile
Right onto Rt. 231 for 5 mile
Right onto 621 (Jacks Shop Road) for .2 mile
Church is on the left
Redeemed by Christ
and called by the Holy Spirit,
Our mission is:
to Proclaim the Gospel through word and sacrament,
to be a commited witness to our faith,
to reach out to the local community
and to support the wider church

Council Members…



Mt. Nebo

Fritz Brittain, President 2022 (2)
Congregational Care
Sherrill Lapin, Vice-President 2020 (1)
Evangelism/Social Ministry & Christian Education

Jane Sathe, Non-Council Member Secretary,

Harold Berrey, Treasurer 2019 (1)
Finance

Doug Burke, Member 2020 (1)
Property
Mike Sathe, Member 2021 (1)

Joyce Kipps 2017, Financial Secretary


Trustees:
Doug Burke (2022)
Good Shepherd


Dick Stageberg, President
Fellowship, Worship & Music
Richard West, Vice-President
Stewardship
Kit West, Secretary
Service & Christian Education

Connie Kronander, Treasurer
Non-Council Member

Janet Cooper, Financial Secretary
Evangelism

Grant Palmer, Council Member
Richard West, Vice-President
Jane Sathe, Secretary

Grant Palmer
Fritz Brittain
Earl Hampton
Doug Burke
Sherrill Lapin